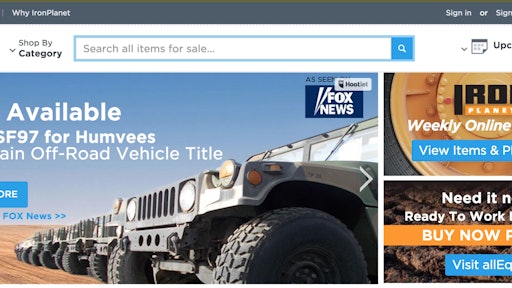 IronPlanet closed a new $55 million senior secured credit facility that is expected to keep the online heavy-equipment marketplace on pace to reach $1 billion in sales revenues by the end of 2016.
"IronPlanet is continuing to build on the momentum we've gathered over the last year and this new financing will help fund our future growth," said Gregory J. Owens, IronPlanet chairman and CEO. "Since last September, we've entered two new verticals, oil and gas, with the purchase of Kruse Energy and Equipment Auctioneers, and government surplus, which we launched as GovPlanet. In April, we merged with Cat Auction Services which added an onsite component to our sales channels."
The new credit facility repays/refinances the loans associated with purchasing Kruse and provides growth capital. 
The last time the privately held company revealed its annual sales was 2011, when it claimed a record $568 million in gross merchandise volume.
Now in its 15th year, IronPlanet claims to have sold more than $4 billion worth of equipment and registered more than 1.4 million users.
"We've got a goal to achieve over $1 billion in sales next year, and we feel we are very comfortably positioned to reach that," said Owens.
In addition to getting better terms for the Kruse financing and strengthening the company's balance sheet, Owens says the new credit facility allows IronPlanet to offer some sellers more options to balance their financial positions.
"Typically a company like IronPlanet or any of the auction companies will see the greatest level of requests to purchase equipment at the end of a quarter or end of a fiscal year when companies are looking to clean up their balance sheets for the year," said Owens.
"They'll come to you and say, 'We're trying to start the next quarter or fiscal year right. We've got a package of equipment and we'd like for you to look at it and offer us a purchase price now.'
"It [the credit facility] allows us to be a little more flexible with our sellers and provide a service to them that is helpful in getting their business in order for the next quarter or fiscal year."