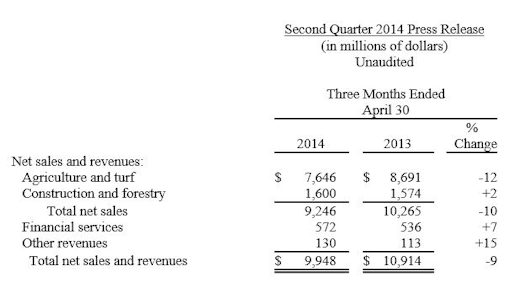 For the first six months of fiscal 2014, net income attributable to Deere & Company was down 4% to $1.662 billion on a 7% drop in agricultural-equipment sales. Construction & Forestry Division sales rose 3% over the same period, with division profits soaring 48% to $226 million.

Worldwide net sales and revenues for the second quarter of fiscal 2014 fell 10% to $9.246 billion, again on a 12% plunge in the much larger Agriculture & Turf Division (ag and turf equipment delivered 77% of Deere's Q2 total revenue, whereas construction and forestry made up just 17%).
Our second-quarter earnings showed further proof of the adept execution of our operating plans," said Samuel R. Allen, chairman and chief executive officer. "We kept costs and assets well under control while successfully managing major new-product transitions associated with more stringent emissions standards. In addition, our construction and forestry and financial services operations delivered improved results."
First-quarter Construction & Forestry Division operating profit was a whopping 63% higher, at $132 million, than in Q1 2013.
2014 Outlook
Total Deere equipment sales are projected to decrease about 4% for fiscal 2014 and for the third quarter compared with the year-ago periods, lead by a 7% decline in ag and turf sales. But Deere's worldwide sales of construction and forestry equipment are forecast to increase by about 10% for full-year 2014.
Total net income attributable to Deere & Company is anticipated to be about $3.3 billion.
"John Deere expects to achieve near-record earnings for the full year and the company is well-positioned to deliver solid financial results throughout the business cycle," Allen said. "We're confident our extensive investments in new products and markets, coupled with a tight rein on costs and assets, will keep the company on a sound financial footing and help sustain our growth plans."