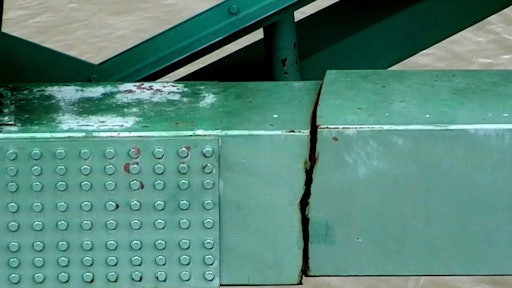 Tennessee Department of Transportation (TDOT) Facebook
The Hernando DeSoto Bridge, which carries I-40 across the Mississippi River between Tennessee and Arkansas, was suddenly closed on May 11 when engineers from the Arkansas Department of Transport discovered a fractured support beam during a routine inspection. Since then, new information has come to light revealing that damage to the bridge has been visible and evident as far back as 2016.
The Tennessee Department of Transportation (TDOT) announced it had awarded a contract for the emergency repair of the bridge to Kiewit Infrastructure Group. TDOT said the work would be completed in two phases beginning as early as May 19, and that both phases would be completed before the bridge could be reopened.
While the inspector who missed the crack has since been fired, the damage to trucking industry is being widely felt. Over-the-road truckers are having to take alternate routes, taking an eight-minute drive to an average of 84 minutes at a daily cost to the trucking industry of $2.4 million per day, according to the American Transportation Research Institute.
"Lives may well have been saved by discovering this crack and closing this bridge," Transportation Secretary Pete Buttigieg said during the 2021 Transportation for Construction Coalition Fly-in. "This event brings the need to invest in our infrastructure to the forefront."
Spotlight on the Large Issue with American Infrastructure
The bridge's closure comes as the White House is negotiating with a group of Senate Republicans on an infrastructure package and while the cost of the bridge being shut down is high, the price tag on the issue could have been much worse if the bridge had collapsed due to the missed crack. 
According to the American Road & transportation Builders Association (ARTBA), 1 in 3 bridges in the United States are currently structurally deficient. What that really means is that motorists are driving across bridges badly in need of repair 171.5 million times daily.  
At the current pace, it would take nearly 40 years to repair this current backlog of structurally deficient bridges. The estimated cost to repair or replace the 45,000 bridges in need of repair, based on average price data from the U.S. Department of Transportation, would be $41.8 billion.
The cost of doing nothing to repair these bridges though would be even higher. As years go on, the likelihood of these bridges failing increases and with that the chance of catastrophe. 
Roads Need Help Too
Our bridges aren't the only infrastructure in the United States sorely in need of repair. The American Society of Civil Engineers reported that over 40% of the roadways in the country are in critical need of repair as well. 
As the backlog of rehabilitation needs grows, motorists are forced to pay over $1,000 every year in wasted time and fuel. Overall, our deteriorating roads are forcing the nation's motorists to spend nearly $130 billion each year in extra vehicle repairs and operating costs. Even more troubling is that the number of vehicle miles traveled on roads in "poor" condition has risen from 15% to more than 17% over the last decade.
The U.S. has been underfunding its roadway maintenance for years, which the ASCE says has resulted in a $786 billion backlog of road and bridge capital needs. The bulk of the backlog ($435 billion) is in repairing existing roads, while $125 billion is needed for bridge repair, $120 billion for targeted system expansion and $105 billion for targeted system enhancement (which includes safety enhancements, operational improvements and environmental projects).
The Need is Now
The FAST Act, which fuels the Highway Trust Fund (HTF), ends September 30th of this year and the uncertainty of what the future of highway funding will look like is causing concerns for road building contractors. 
Transportation Secretary Pete Buttigieg and Labor Secretary Marty Walsh touted President Biden's infrastructure package this week as the White House continues talks with GOP lawmakers.
Buttigieg, who met with Republicans to discuss infrastructure spending, told reporters it was a "productive conversation."
"The purpose of our conversation was really to see where there are areas of overlap," he said after touring the Frederick Douglass Memorial Bridge project in Washington, D.C. "We start in very different places, but that's how negotiations work."
Democrats have called the I-40 bridge damage an example of the urgent need for additional funding to fix the nation's bridges and roads, furthering support for Biden's sweeping $2 trillion infrastructure package. 
Republicans have called for an infrastructure plan with a smaller price tag than Biden's and with a narrower definition of public works. 
Congressional Republicans, Democrats and White House officials continue to negotiate on the size, scope and financing of an infrastructure package that may include reauthorization of the surface transportation programs. Parties are operating under a self-imposed Memorial Day deadline to reach a bipartisan agreement. 
The industry awaits leadership in Washington on this matter. Stay tuned to ForConstructionPros.com for updates.