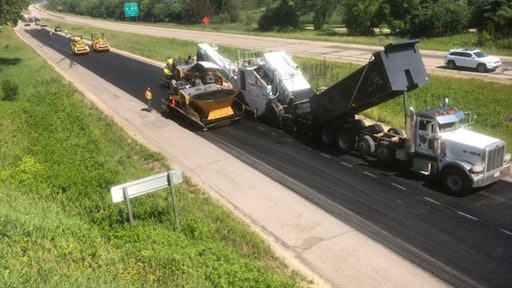 Ryan Guhr/Facebook
For years, U.S. infrastructure has been hoping for an infusion of new money from the government. It's been promised by lawmakers and even pegged as a bipartisan issue but nothing has happened. Instead of action, we now have the Coronavirus slump draining away the already limited resources available to maintain and improve our crumbling highways and bridges.
As a result, states are already beginning to delay - and even cancel - projects because there isn't enough money to ensure the work can get done - especially with dwindling revenues. 
Road traffic in the U.S. is down 38%, which is causing a decline in gas tax revenue and dollars collected from highway tolls to dwindle. The longer the shutdowns, the less money there will be to pay for transportation and other types of projects. 
Sure sources say the Trump administration is preparing to unveil a $1 trillion infrastructure proposal as part of its push to revive the U.S. economy, and House Democrats have offered their own $494 billion plan. But experts say that even if a bipartisan deal could be struck—a big if—any increase in federal funding for highways and bridges may not be enough. 
Inaction Trickles Down
The Brookings Institute has estimated that 1 out of every 10 jobs in America is related to U.S. infrastructure. If there isn't money for road work, there won't be dollars spent on equipment which means there's no need for steel or the countless other supplies needed to build highways. From paint subcontractors to asphalt manufacturers to the people who lay sod, no funding for these projects trickles down to so many people.
While Washington tries to get their act together on an infrastructure bill, businesses are left in limbo. While most infrastructure projects are prefunded, meaning companies aren't all that worried about 2020, 2021 is a different story. Projects for next year may not receive financing if states remain partially closed. Slowdowns in demand may start hitting hard by the end of this year and into the next as states scramble to get a grip on how rising costs related to the pandemic, as well as falling tax revenue, will impact them longterm.
The inability of politicians in Washington to find common ground is forcing states to scramble for alternatives. The American Association of State Highway and Transportation Officials estimates an average loss of at least 30% of state transportation revenues in the next 18 months if lockdowns continue and people remain in their homes. The association is asking Congress to greenlight about $50 billion in flexible federal spending to offset those losses.
In addition to dwindling revenues, states are required to match about 20¢ of every dollar they get from the federal government to build highways and bridges. If a state fails to make the match, Washington cancels the funding. That can be devastating for states such as Montana, which gets as much as 90% of its infrastructure budget from the federal government.
Also looming in September is the expiration of the FAST Act and lawmakers will again face a choice of either extending it or coming up with a long-term replacement.
Democrats have released a bill to reauthorize the program. It includes investments in roads and bridges, funding to make certain projects more resilient to climate change, and money for public transit and Amtrak, among other priorities.
It's not yet clear how closely the plan the Trump administration is putting together will align with the Democrats' proposal but history points to no. Unfortunately, states can't wait much longer for funding. 
"The bottom line is the state DOTs need a backstop," says Jay Hansen, executive vice president of advocacy for the National Asphalt Pavement Association. "All of them need Congress to do their job and pass a multiyear reauthorization bill with increased funding for investing in highways, roads and bridges."