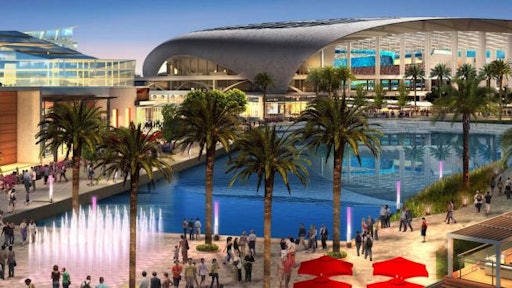 If there's one segment of construction that seems to be doing just fine in this tumultuous economy it might just be stadium and entertainment construction. There doesn't seem to be a lack of new sports stadiums and arenas being proposed or starting construction. 
Of the 10 largest upcoming stadium-arena construction projects — meaning these projects are all still in the planning phase — four of them are planned in California. They include the new Rams football stadium in Inglewood, the San Diego Chargers NFL stadium in San Diego, Carson NFL stadium in Carson and the Oakland Athletics baseball stadium in Oakland.
Here's a list of the 10 largest upcoming stadium-arena construction projects ordered by largest to smallest project dollar value:
City of Champions Revitalization Project - Rams Stadium — Inglewood, CA
San Diego Chargers Stadium — San Diego, CA
Carson NFL Stadium — Carson, CA
Greater Buffalo Sports & Entertainment Complex (Construction of Buffalo Bills NFL Stadium) — Buffalo, NY
Texas Rangers Stadium — Arlington, TX
Baltimore Street Arena — Baltimore, MD
Langtree Lake Norman - Phases II and III - Novant Health Care/Hilton Doubletree — Moorseville, NC
Saint Louis Riverfront Stadium Complex — Saint Louis, MO
USTA National Tennis Center - Louis Armstrong Stadium Reconstruction — Flushing, NY
Oakland Athletics Baseball Stadium — Oakland, CA
It's not just sports stadiums taking shape. The entertainment industry is also adding large construction projects to the mix. Somewhat surprisingly, Florida will be home to four of the top 10 largest upcoming entertainment projects. Some of these have even larger project values than the stadiums in the above list.
Here is the list of the 10 largest upcoming entertainment facility construction projects:
American Dream Miami — Miami, FL
Resorts World Las Vegas - Phase — Las Vegas, NV
Sole Mia Mainstreet — Miami, FL
Liberty Rising —Jersey City, NJ
Miami Herald Redevelopment - Resorts World Miami — Miami, FL
Meadowlands American Dream —East Rutherford, NJ
Hollywood Park Tomorrow Mixed Use — Inglewood, CA
Alon Las Vegas — Las Vegas, NV
Seminole Tribe Hollywood Entertainment Complex — Hollywood, FL
Wynn Mystic Casino & Hotel —Everett, MA