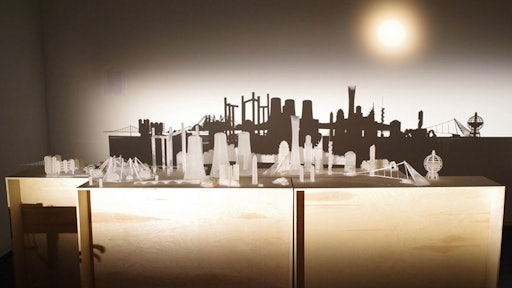 Columbia University GSAPP/Architecturalrecord.com
The beginning of a new year always gives us the opportunity to look ahead to what the next 12 months will bring. But with all the projects, buildings, bridges, etc., being built, what about all those that never got built?
That was the concept of the Never Built New York exhibit in the Queens Museum in New York. The exhibition focuses on the New York City that might have been, exploring alternative paths New York City could have followed. The exhibition, which opened September 17, 2017, and runs through February 18, 2018, includes original prints, drawings, models, installations and animations. In fact, the exhibit includes some 250 pieces of architectural memorabilia representing more than 80 unbuilt projects.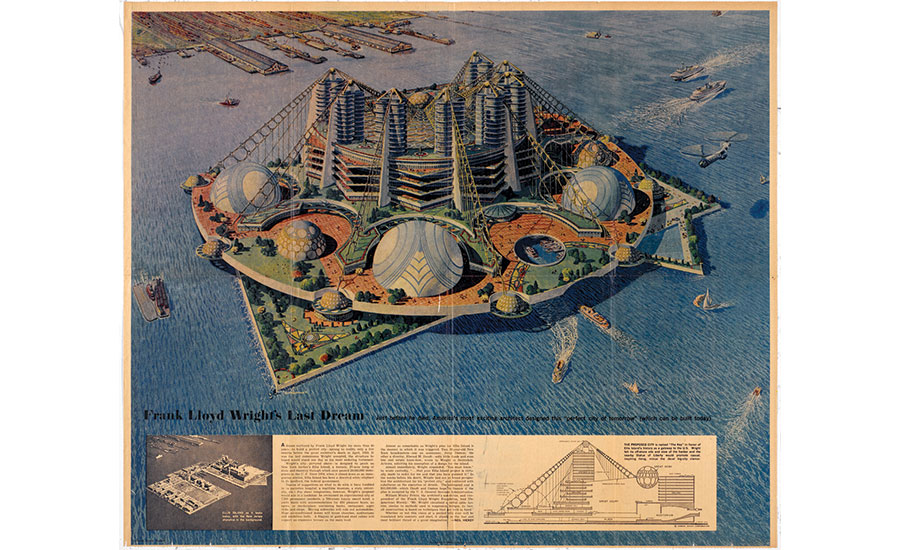 Frank Lloyd Wright's Key Plan for Ellis Island was his last design before his death in 1959. The plan envisioned the decommissioned island as a self-contained city.The Frank Lloy Wright Foundation Archives/Architecturalrecord.comThe exhibition featured plans, renderings and models of never-realized architecture from over 40 different public and private archives and collections. In fact, most of these ideas have never been seen by the public.
In the Queens Museum there is a Panorama of the City of New York, which is the world's largest architectural scale model. For the Never Built New York exhibit, more than 70 Never Built projects were installed in their originally intended locations on the scale model.
Some of the unbuilt projects include an elevated roadway — deemed The Midtown Expressway — that would have connected New Jersey to Long Island through the middle of Manhattan as well as Frank Lloyd Wright's Key Plan for Ellis Island.

Unfortunately, there are only a few days left to visit the Never Built New York exhibit, but we might see something like this again in the future. This isn't the first Never Built exhibit. Never Built Los Angeles ran over on the West Coast at the Architecture and Design Museum from July to October 2013.
I think it would have been amazing to see these Never Built exhibits. Get a glimpse into ideas of the past and imagine what our present could have looked like. I'd love to see a Never Built exhibit about any major city.
How about you? What city would you be curious to see the never built projects?
Did you get to the Queens Museum to see Never Built New York? What did you think of the exhibit?
Share your thoughts in the comments section.