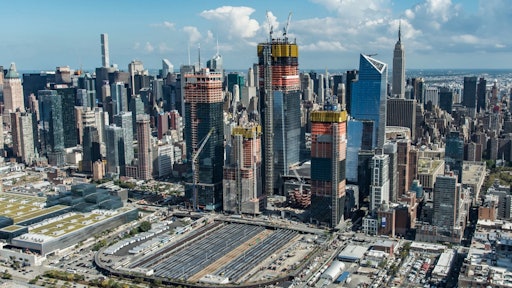 Related-Oxford
New year, new projects. As 2018 is now in full swing, we thought we'd compile a list of just some of the projects to keep an eye on this year. These projects have the possibility to reshape many U.S. cities in 2018. So what's being built?
Developments
Here is just a short list of some of the major developments set to open or hit big milestones in 2018.

Comcast Development Center in Philadelphia. This $1.5 billion development will redefine the Philadelphia skyline with a 1,121-foot supertall tower in Center City.
Hunters Point Naval Shipyard in San Francisco. This reused naval site will include hundreds of relatively affordable condos.
Capitol Crossing in Washington, D.C. The first phase of this $1.3 billion downtown redevelopment is set to open later in 2018. The project consists of five Platinum LEED-certified buildings connected by landscaped public areas.
Essex Crossing in New York City. Essex Crossing is a mixed-use megaproject on Manahattan's Lower East Side.
Metropolis in Los Angeles. This housing and hotels megaproject features the city's most expensive penthouses. The project has opened its first few residential buildings in 2017 and will continue to open new towers set to finish in 2018 and 2019.
Independent in Austin. The tallest building in Austin is set to open this year. It will also be the tallest all-residential tower west of the Mississippi.
Hub on the Causeway in Boston. Redeveloping the old Boston Garden site will include 1.87 million square feet of shops, restaurants, offices, hotel rooms and residences. The first phase of this project is set to finish in 2018.
Hudson Yards in New York City. The Hudson Yards project includes residential and retail development on the city's west side. The first residential building is set to open this year.
Packard Plant in Detroit. Redeveloping this 3.5-million-square-foot former auto plant could be one of the biggest redevelopment project in North America. The earliest stages of the project are set to be complete by the end of this year.
One Thousand Museum in Miami. This ultraluxury 62-story residential tower should be finsihed by the end of 2018 and will join in reshaping Miami's skyline.
Transportation
It's not just buildings being completed in 2018 that should be on our radar. All the talk revolving around infrastructure and funding sets the stage for keeping a close eye on transportation projects to watch this year.
New streetcars. Quite a few cities including Milwaukee, Oklahoma City, St. Louis and El Paso, Texas, are scheduled to get new streetcar lines completed in 2018.
Investment in bus rapid transit. Investment in bus rapid transit (BRT) programs aims to provide bus passengers with the capacity and speed of a metro or subway line while maintaining the lower costs of a bus system. This includes having dedicated bus lanes, level station platforms and more. In 2018, we can expet to see serverl new BRT systems open across the country, including in Boston, San Diego, Chicago and more.

MyFigueroa bike- and pedestrian-friendly street improvements in Los Angeles. After nearly a decade, the highly anticipated street improvements are set to open in 2018. The makeover of Figueroa Street will include a protected bike lane, bike signals, a dedicated express bus lane, bus platforms and wider sidewalks.
Light rail expansion in Charlotte, NC. Charlotte's $1.1 billion light rail extension was originally set to open in August 2017 but has been pushed back to a spring 2018 opening. The Blue Line Extension will nearly double the size of the light rail system.
Governor Mario M. Cuomo Bridge in New York. Replacing the old Tappan Zee Bridge over the Hudson River, the Cuomo Bridge is one of the largest public infrastructure projects under construction in the U.S. Work began on the bridge back in 2013 and opened its first new span to traffic in October 2017. The second span should be finished this summer.
Salesforce Transit Center in San Francisco. This bus and train station will feature a 5.4-acre park on the roof of the bus and rail station. The plan is for the transit center to serve as a hub for all the region's transportation agencies and accommodate more than 100,000 passengers each weekday.
G Line commuter rail in Denver. Originally planned to open in 2016, the long-delayed G Line which will connect downtown's Union Station with the northwestern suburbs of Arvada and Wheet Ridge could finally be operational in 2018.
TEXRail in Fort Worth, Texas. This 27-mile commuter rail line will extend from downtown Fort Worth to Grapevine and the Dallas-Fort Worth Airport. The $1 billion project is scheduled to open in December 2018.
CTrail Hartford Line in Connecticut. This $750 million project to expand rail service between New Haven, CT, and Springfield, MA, is expected to being service in May 2018.

What other 2018 projects should be on the radar for this year?
Share your thoughts in the comments section.