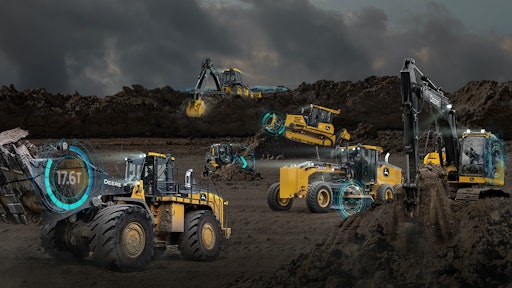 John Deere
Technology adoption has been top of mind for our readers during the past month, from drones and robots to apps and digital twins. Here are our top 10 construction technology stories published in April:
10. Extracker Announces Integration with Procore
Change-order communication software teams with global project management platform to give contractors new opportunities to streamline workflows and reduce risk.
9. Bentley Systems Brings Infrastructure Digital Twins to NVIDIA Omniverse
Company is developing applications for photorealistic, real-time visualization and simulation of digital twins of massive-scale industrial and civil infrastructure projects.
8. IBM, Red Hat and Cobuilder Spearhead Development of OpenBuilt to Accelerate Digital Transformation Across Construction Industry
New cross industry collaboration joins forces to create OpenBuilt, based on Red Hat OpenShift and IBM Cloud to help build faster and more cost-effectively, while helping to control risk.
7. Texas A&M Advances Study of Driverless, Connected Vehicles
The research facility is an open, scalable and flexible test site for new tolling and intelligent transportation system solutions for driverless and connected vehicles.
6. Subcontractor App Connects Paperwork, Communication
TargetDocs, a Maryland-based technology startup, received entrepreneurial startup funds for its subcontractor app.
5. High-rise Construction DokaXact Sensor-based Solution Wins Innovation Award
DokaXact is an interactive sensor-based solution that enables the accurate positioning of wall formwork for vertical structures at a new level. The solution has been awarded the CTBUH 2021 Innovation Award of Excellence.
4. Construction Equipment is Making Critical Connections on the Jobsite
Advances in data transmission capabilities and machine electronics are providing access to vast amounts of information on construction equipment – and laying the foundation for predictive analytics and machine autonomy.
3. Drywalling Robotics Startup Attracts Investors
Construction robotics company Canvas has received financing from investors for its drywalling robot that completes Level 5 application finishes.
2.
BVLOS DJI Drone Flight Could be Game Changer for Construction
Anarky Labs is developing artificial reality software that could make Beyond Visual Line of Sight (BVLOS) drone flight more accessible.
1.
John Deere Advances Smart Technology Commitment with Precision Construction
Precision Construction delivers a suite of solutions focused on addressing customer pain points on the jobsite.