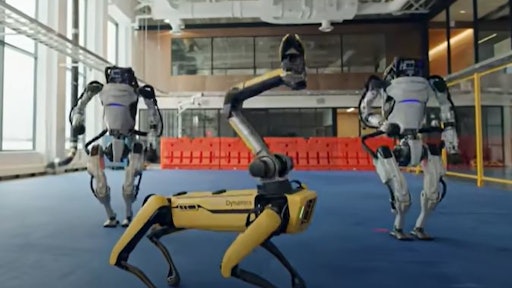 Boston Dynamics
2021 is shaping up to be another year rife with tech advancements in the construction industry. Here are the top stories you were reading in March about the world of drones, asset tracking, productivity tech and more.
10. Bouygues Construction Matériel Connects 20,000 Equipment Pieces in Real Time
An asset tracking solution by Bouygues Construction is connecting 20,000 pieces of equipment for remote real-time management and optimization.
9. How Construction Management Software Can Help Contractors Handle Disputes & Avoid Rework in 2021
A proactive approach to strategize and manage projects is essential to ensure productivity. Here's how you can retaliate against disputes and avoid rework using construction management technology.
8. 5 Ways Drones Bring Value on Construction and Engineering Projects
If your engineering, construction or architectural firm is evaluating drone adoption or expansion, here are some of the top value factors to consider. 
7. What's Next: Drone Airports
An airport is under construction in Coventry, England that will serve drones and other electric vertical take-off and landing (eVTOL) vehicles.
6. Will Construction's High-Tech Embrace Continue Post-pandemic?
Construction has seen a surging acceptance of various forms of technology during the COVID-19 pandemic. But will it continue once the crisis is over? 
5. Drone Pros Clarify New FAA Rules
Drone experts at Kansas State Polytechnic hosted its "UAS FAA Regulation Update" webinar on Feb. 25, which provided clarification on upcoming drone rule changes.
4. Six Factors to Consider When Adding Drones to Your Construction Business
Tech experts hash out the top considerations for construction companies wanting to add unmanned aerial vehicles to their business plan.
3. Four Trends Behind the "Explosion" in Construction Technology Adoption
Cliff Fetner, Soil Connect, and Aaron Toppston, The Walsh Group, examine the key trends behind the substantial increase in tech adoption in construction, as well as how to assess the value of technology investments. 
2. 3 Reasons Construction Companies Need to Digitally Transform Now
As the pandemic continues to change the way businesses run, construction companies have begun to realize the importance of going digital.
1. Can You Mash Potato? Do the Twist? These Construction Robots Can
What's more fun than dancing robots? Boston Dynamics employees created a video of the company's robots dancing to "Do You Love Me?" by the Contours to showcase how far robot mobility has come in recent years.