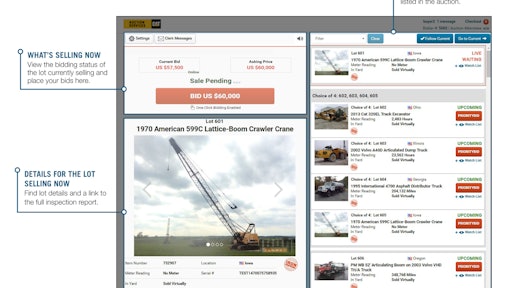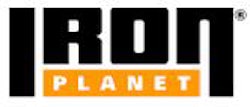 IronPlanet, a leading online marketplace for selling and buying used equipment and other durable assets, today announced IronPlanet LiveStream, the next generation in online bidding for live on-site auctions. IronPlanet LiveStream builds on the company's online technology with new live on-site auction features for buyers who need to stay in the field or on the job, or who prefer the convenience of buying online.
"IronPlanet LiveStream is as close to being in the room with an auctioneer as an experienced buyer could want," said IronPlanet Chief Marketing Officer, Matt Ackley. "We've taken that live on-site knowledge and used our online marketplace expertise to provide a best-in-class experience that our 1.5 million registered users can tap into for any live on-site sale. What's important is that we've integrated our industry leading online bidding process, PriorityBidding, into the ring at a live sale."
With IronPlanet LiveStream bidders can:
Place PriorityBids, which allows them to set the maximum price they are willing to pay, and lets IronPlanet's system automatically place the lowest bid amount required for them to win – up to their maximum
Hear as well as view the auctioneer so that they can have a live auction experience
Set up "One-Click" bidding to save valuable time in a competitive bidding situation
Create a watch list with multiple items in order to streamline their bidding and buying experience
View equipment with IronPlanet's IronClad Assurance equipment condition certification and full inspection reports
In addition, IronPlanet returns to the Lone Star state on Wednesday, September 14, 2016, to kick off its fall 2016 series of onsite auctions. IronPlanet LiveStream technology will make its inaugural launch at the Dallas event. Cat Auction Services, IronPlanet's live on-site auction format, will be selling 320+ items from leading Cat dealers: Warren CAT, Louisiana CAT, Mustang Cat, PipeLine Machinery and Foley Equipment.
Preview open daily: 8 a.m. to 5 p.m. CT
Auction starts: 9 a.m. CT, Wednesday, September 14
Equipment from John Deere, Caterpillar, Bobcat, Sakai, Lull, New Holland, Terex and more. Items include: late-model John Deere and Cat Crawler Tractors, Motor Graders, Track Excavators, Cat 740B and 725 Articulated Dump Trucks, Cat Backhoe Loaders, trucks from Kenworth, Peterbilt, and Freightliner, among many others
Online bidding with IronPlanet Livestream will also be available at: Kruse Energy Auctioneers goes to Duncan, Oklahoma, 9/14; and Leake Collector Car Auction, 9/9 and 9/10 in Detroit.
The "September to Remember" auction events also include: 
GovPlanet's First Three-Day Sale: IronPlanet's marketplace dedicated to selling federal, state and municipal equipment is holding its first three-day sale featuring a third all-Humvee sale with over 340 Humvees (Tuesday, September 13); 340 cranes, trucks, construction equipment, trailers and more for sale (Wednesday, September 14); and its first Pump & Power sale (Thursday, September 15). 
IronPlanet's Two-Day Online Featured Auction: 9/15 – 9/16

A complete dispersal of 600+ items from Fowler Transportation, Ltd., a leader in rig mobilization and heavy oilfield hauling services to the oil and gas industry in Texas, Louisiana, Oklahoma, and New Mexico 
IronPlanet's quarterly Quarry, Aggregate and Mining sale 
For more information on scheduled events, including full equipment listings, visit www.ironplanet.com.
Companies in this article