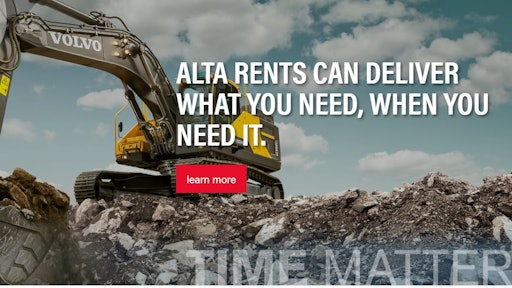 B. Riley Principal Merger Corp., a special purpose acquisition company, and Alta Equipment Holdings, a provider of industrial and construction equipment and related services, merged to form a publicly traded equipment dealership platform worth about $540 million.
The combined company was renamed Alta Equipment Group Inc. Beginning February 18, 2020, shares of the company's common stock will begin trading on the New York Stock Exchange under the new ticker symbol "ALTG."
The company also completed acquisitions of Liftech Equipment Companies Inc. and FlaglerCE Holdings, consistent with Alta's market expansion strategy. Alta now operates in 43 locations across Michigan, Illinois, Indiana, New England, New York and Florida.
Alta's executive management team will continue to be led by Ryan Greenawalt, who will serve as the company's chief executive officer and chairman of the board of directors. The company's board of directors will be comprised of Dan Shribman, B. Riley Financial's chief investment officer, Zachary E. Savas, president of Cranbrook Partners & Co., Andrew Studdert, founder of Andrew P. Studdert & Associates, and Katherine White, professor of law at Wayne State University Law School.
"The additions of Flagler and Liftech provide further scale to our dealer platform and provide a great opportunity to grow our aftermarket parts, sales and service business through geographic expansion," said Ryan Greenawalt. "Our strengthened capital structure will further support organic growth as well as the robust opportunities in our acquisition pipeline."
B. Riley Principal Merger Corp. was a blank check company sponsored by an affiliate of B. Riley Financial incorporated for the purpose of effecting a merger, capital stock exchange, asset acquisition, stock purchase, reorganization or other similar business combination with one or more businesses. BRPM raised $143.75 million in its initial public offering in April 2019.
Alta Equipment Group Inc. owns and operates one of the largest integrated equipment dealership platforms in the U.S. The company's branches sell, rent, and provide parts and service support for lift trucks and aerial work platforms, cranes, earthmoving equipment and other industrial and construction equipment. Alta has operated as an equipment dealership for 35 years and has developed 43 locations across Michigan, Illinois, Indiana, New England, New York and Florida. http://www.altaequipment.com.