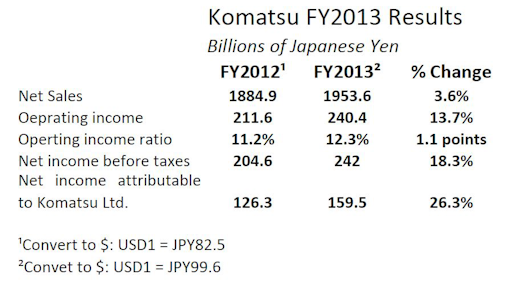 Komatsu Ltd.'s consolidated net sales increased by 3.6% to about $19.6 billion in the fiscal year ended March 31, 2014 (FY2013), and projects sales to grow another 3.8% in FY2014.
Operating income in FY2013 improved by 13.7% to about $2.4 billion, which translated into an operating income ratio of 12.3%, up 1.1 percentage points. In the construction, mining and utility equipment business, while demand for mining equipment remained slack, that for construction equipment increased in Japan, China and some other regions. In addition, reflecting the Japanese yen's depreciation, sales and segment profit increased from the previous fiscal year.
2014 Outlook
In the construction, mining and utility equipment business, while demand for construction equipment is steady in North America and some other world regions, Komatsu expects the 2014 market environment to be more challenging than FY2013. Such market environment is attributable to demand in rental companies having run its course in Japan as well as a decline in demand for mining equipment resulting from the conservative mindset of mining customers for capital investment against the backdrop of sluggish commodity prices. In the industrial machinery and others business, while demand for wire saws should remain depressed, Komatsu anticipates steady sales of press and sheet-metal machines as well as machine tools, especially to the automobile manufacturing industry.
Komatsu will step up its group-wide efforts to reinforce business models designed to offer comprehensive merits to customers, and strive to expand sales in the entire value chain which includes not only sales of new equipment but also parts and service, rental-to-used equipment, and retail finance businesses. At the same time, Komatsu will also make continuous efforts to improve selling prices, production costs and the like.
Komatsu projects consolidated business results for the fiscal year ending March 31, 2015 according to the table above.