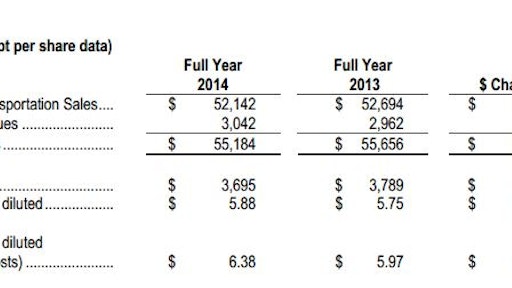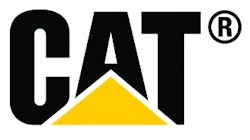 Caterpillar Chairman and Chief Executive Officer Doug Oberhelman credits emphasis on cost management, operational execution and cash flow for the company's ability to beat its 2014 outlook for annual profit per share despite finishing the year with 1% less revenue and 2% lower profit than in 2013.
Caterpillar's fourth-quarter 2014 earnings revealed a momentum change, apparently linked to falling oil prices, that was reflected in a 2015 revenue outlook that is 9.4% below the 2014 total, at 25.5% lower profit per share.
Fourth-quarter sales and revenues were down just 1.1% compared to Q4 2013 but profit per share at $1.23 was about 20% below that of the year-ago period .
Press Release: Caterpillar Inc Q4 2014 Financial Results

The quarter had important bright spots. Revenues of the company's Construction Industries segment in North America grew 13% to $1.996 billion in the fourth quarter of 2014. But construction sales fell 30% in Cat's Asia/Pacific region, 24% in Latin America, and 10% in Europe, Africa and the Middle East (EAME). Total construction revenues, including all regions, were down 9% for the quarter to $4.420 billion, with profit down 26% to $362 million.
Fourth-quarter sales in Caterpillar's Energy & Transportation segment were up 11% overall to $6.191 billion, thanks to 19% growth in North America and 17% growth in EAME, and profit grew 10% to $1.077 billion.
"Overall, we had many positives and a better year in 2014 than 2013," said Oberhelman. "It was a great year for Energy & Transportation with record sales and profit. Sales were also up and profit improved substantially in Construction Industries. The increase in Construction Industries' sales was primarily in North America."
"We are disappointed that we missed our profit outlook in the fourth quarter. That said, 2014 overall was a successful year as we continued to execute on the things we can control. Our overall market position for machines improved for the fourth consecutive year; the quality of the machines delivered to customers was better; safety in our factories continued to improve and inventory turns were better. Our balance sheet is strong, and we repurchased $4.2 billion of stock in 2014 and raised the quarterly dividend by 17%," Oberhelman said.
Looking ahead to 2015, though, low oil prices are expected to reverse not only the fortunes of the Energy & Transportation segment, but that of some of the company's global construction segments.
The Caterpillar release states, "We expect world economic growth to only improve modestly in 2015. The relatively slow growth in the world economy and continued weakness in commodity prices—particularly oil, copper, coal and iron ore—are expected to be negative for our sales."
The company's 2015 outlook expects sales and revenues to be "about $50 billion" – 9.4% below 2014's $55.185 billion.
The company expects 2015 profit of "about $4.60 per share, or $4.75 per share excluding restructuring costs." Those numbers are 21.7% and 25.5% below 2014's results, respectively.
"The recent dramatic decline in the price of oil is the most significant reason for the year-over-year decline in our sales and revenues outlook," Oberhelman said. "Current oil prices are a significant headwind for Energy & Transportation and negative for our construction business in the oil producing regions of the world.
"In addition, with lower prices for copper, coal and iron ore, we've reduced our expectations for sales of mining equipment," Oberhelman added. "We've also lowered our expectations for construction equipment sales in China. While our market position in China has improved, 2015 expectations for the construction industry in China are lower.
"While we are, without a doubt, facing a tough year in 2015, we're driving cost management through additional restructuring actions and continued operational improvements gained from our focus on Lean Management," Oberhelman added.