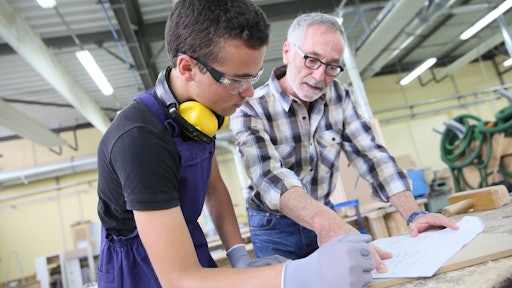 @goodluz – stock.adobe.com
An online educator is adding to the ongoing litany of training programs for the construction industry.
Penn Foster has created a career diploma course curriculum for the construction trades. The program includes hands-on exercises and a work opportunity where students can receive real-world experience. According to the Penn Foster, which is accredited by the Distance Education Accrediting Commission, the training program can be completed in five months. 
Courses included in the curriculum include:
Introduction to the Construction Trades and Building Trades
Math for Construction Trades
Construction Drawings and Building Materials
Tools, Foundations and Concrete Work
Framing
Insulation and Exterior Finishes
Interior Finishes
Licensing or certification availability varies by state and may require additional testing or experience. 
Cost of the program varies from $699-$725 and can be paid in monthly installments of $49. Interactive coursework, digital textbooks, tools, learning aids, tracking tools, support and career services are included in the tuition cost. Students can pay tuition with credit cards, PayPal, checks, money orders and authorized automatic withdrawals from checking and savings accounts from U.S. banks. 
"As the country prepares to build back from the COVID-19 pandemic, demand for skilled workers in the construction industry will only continue to accelerate," says Dara Warn, chief customer officer at Penn Foster. "This is about ensuring that working learners around the country can learn the skills they need to access fulfilling, resilient careers, in the industries that will be mission critical to our economic recovery."
In response to the construction industry's workforce shortage, several schools and trades groups are adding training programs for would-be contractors. New programs have been started by Hilti, Comfort Ready Home and some companies have recently unveiled new training centers, like Takeuchi-US. 
RELATED:
High costs for materials and severe weather events slowed the construction industry in recent weeks. Although housing starts experienced a steep decline in April, the construction industry is still battling a shortage of workers. 
The Institute of Supply Management's most recent report listed the construction workforce shortage as the biggest issue in the services sector. The Associated Builders and Contractors estimates 430,000 more workers will be needed to meet demand in 2021.