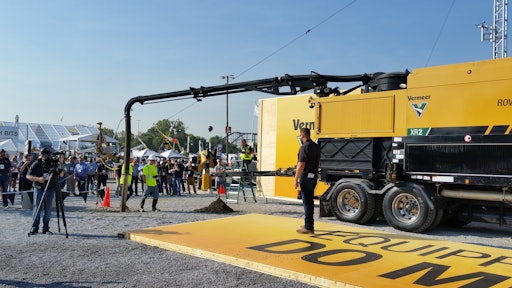 Louisville, KY, is notorious for unexpected weather conditions this time of year, and that certainly was true last week as exhibitors, attendees and the trade press flocked to the Kentucky Exposition Center for the 2019 International Construction & Utility Equipment Exposition (ICUEE). A record-breaking 19,000 registered attendees from the U.S., Canada and more than 65 countries arrived to visit the more than 1,000 exhibits covering 1.34 million sq. ft. – the show's highest ever – all while enduring record-high heat.
The event led off with key news updates and was followed by a literal drop of the box as a range of suppliers launched exciting new products for the construction and utility markets. Here are few of the major highlights:
Toro Provides Update on Acquisition of Ditch Witch and its Sister Brands
Rick Rodier, group vice president, Construction Businesses, The Toro Company, shared details on the transition following the company's acquisition of The Charles Machine Works Company earlier this year, and the effects on Ditch Witch and its sister brands. Find out more about the successful merger of the two compact and underground equipment power houses in the video from the press conference below.
[VIDEO] The Toro Company Reflects on Ditch Witch Merger and What the Future Looks Like
To Dig Deeper into this topic, I sat down with Rodier following the press conference to learn what's happened over the past several months, as well as what lies ahead for the combined organization and its multiple brands.
[PODCAST] Toro's Rick Rodier Discusses Charles Machine Works and Ditch Witch Acquisition
Toro to Phase Out HDD and Ride-On Trencher Lines
Hyundai Shows New Products and Electric Prototype
At the Hyundai Construction Equipment booth, I joined my colleague, Christoph Trappe, AC Business Media's Chief Content Officer, who was already checking out the new 30Z-9AK compact excavator with dual-lock quick coupler. I took the opportunity to speak with David Venable, director – Off Highway Sub-Segment Market Leader at Cummins Inc., to get more insight on the collaboration between the two companies to develop an electric-powered compact excavator prototype.
[VIDEO] Hyundai and Cummins Inc. Collaborate on Electric Prototype R35E Compact Excavator
I also spoke with David about the trends in the electrification of off-highway equipment and what may lie ahead for construction fleets.
[PODCAST] Trends and Future Outlook of Electrification in the Off-highway Equipment Industry
Also on display in the Hyundai booth was a sneak peak of Hyundai's new 140Lc excavator equipped with an Engcon tiltrotator, which is now available as an option to add further the versatility to the Hyundai product lineup.
[VIDEO] Close-up of the Engcon Tiltrotator on Hyundai's HX140Lc Excavator
Vermeer Makes Big Impact at Unveiling, Builds Opportunities Out of Devastation
Of course, the big attention-getter of the day was when Vermeer dropped the lid, so to speak, on its industry-exclusive XR2 vacuum excavator. The unveiling got the large crowd jumping as the sides of a massive crate fell to the ground without warning to reveal a new innovation in spoils management for underground construction. The XR2 not only allows for hydro-excavation and soft-dig processes, but is designed to separate liquids from solids, allowing for easy disposal of solid materials and even potential reuse on site.
View its dramatic debut below:
Immediately following the unveiling and demonstration, I sat down with Jason Andringa, Vermeer president and CEO, and Doug Hundt, president – industrial, to learn about not only this exciting new product, but to Dig Deeper into where the company has come, and where it's heading, since a devastating tornado made a direct hit its Pella, IA, manufacturing campus in July 2018. Click the link below to listen in on this exclusive interview.
[PODCAST] Vermeer Executives Talk XR2 Vacuum Excavator and Rebuilding After a Tornado
Ditch Witch Goes Full Size with Stand-on Skid Steer
Next up was a visit to the Ditch Witch booth, where we not only learned about the new JT24 horizontal directional drill, but were treated to a preview of the all-new 59-hp SK3000 full-size stand-on skid steer. Its whopping 3,100-lb. rated operating capacity makes it the largest stand-on model in its class. It also delivers 5,500 lbs. of breakout force and 51 hp to the attachment.
We'll be sharing more details in our exclusive video coverage on ForConstructionPros.com; in the meantime, you can get a glimpse of this "beast" in action below.
Caterpillar Enters 6-ton Mini-excavator Class, Shows Land Management CTL
The introduction of the 306 CR mini hydraulic excavator marks Caterpillar's entry into the 6-ton size class. The compact machine offers a maximum dig depth of 162 in. with an optional long stick, as well as a 7,839-lb. lift capacity at a 9.8-ft. radius.  Its swing boom and compact radius design also enable a 58-in. tailswing with counterweight.
Click here to see the 306 in action at the show. 
To highlight its D3 Series skid steers and compact track loaders, Caterpillar also showed the purpose-built 299D3 XE Land Management model, which is outfitted specifically for vegetation management applications. The 299D3 XE delivers the power needed to handle challenging tasks and incorporates features and guarding required to ensure maximum performance and durability.  
See it in action: 
More Show Highlights:
International Truck Introduces High-visibility HV Series Vocational Truck
[VIDEO] Vanair's New Separator Tank Updates Design with Integrated Manifolds and Redundancies
[VIDEO] Vanair Lithium-Ion Jump Starter Product Line Covers Class A Trucks to Personal Vehicles
Terramac Highlights Customized Crawler Carriers at ICUEE 2019