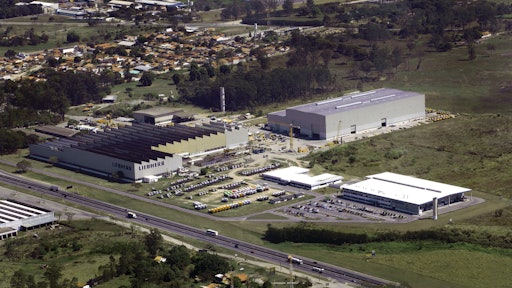 In a whirlwind tour, construction editors from as near as Columbia to as far away as Singapore were given a chance to view Liebherr's Brazilian operations and glimpse its varied equipment in action. Traveling by bus and plane, the "information tour" crossed hundreds of miles of this lush, vibrant country, sharing insight into the opportunities the country has to offer construction equipment suppliers.
Equipment Designed For Local Needs
The Brazilian economy has seen exponential growth over the last 10 years and, according to Klemens Stroebele, managing director, Liebherr Brasil GMO LTDA's operations have grown along with it. Sales revenues have increased more than eightfold from $19.3 million (USD) in 2001 to almost $258 million in 2011. The average annual growth during this period was approximately 25%, and is expected to continue, albeit at a more moderate rate (11%) in 2012.
Liebherr Brasil represents four divisions: Earthmoving Equipment, Mining, Maritime Cranes, and Construction Cranes and Mixing Technology. The current manufacturing program includes the R 944 C, R 954 C and R 964 C crawler excavators, the A 924 C material handler and the L 538 and L 580 wheel loaders, all of which are targeted to the Latin American market. Liebherr Brasil also produces the R 9350 and R 9400 large hydraulic excavators for worldwide mining customers.
Construction Cranes and Mixing Technology is divided between concrete equipment with truck mixers and a dry batching plant, and tower cranes. The Maritime Cranes division focuses on offshore cranes.
The manufacturing facility in Guaratingueta, about two hours northeast of Sao Paulo, has a total production area exceeding 1,250,000 sq. ft. to allow for these varied engineering and manufacturing activities. Major investments for extensions and modernization of the facilities in recent years have included a new truck mixer production line, a new final assembly building, new machining centers and a new paint shop.
The first day of the trip included a tour of this expansive facility, along with an introduction to the latest product designed specifically for Brazilian customers, the TDA 100 dry concrete batch plant. "This product emerged from a completely local technical design and engineering approach," Guilherme Zurita, commercial manager mixing technology, told attendees. "At the moment the TDA 100 is available exclusively to customers in Brazil."
The new plant represents Liebherr's first foray into dry batching, and was designed specifically to address tax regulations in Brazil that require concrete to be mixed inside the truck mixer rather than a stationary mixing plant. The plant has a maximum output rate of 140 cu. meters per hour, suitable for even larger construction sites.
Liebherr Equipment Unearths Ore
On the second day, our group boarded a charter flight to Belo Horizonte where we were treated to lunch at a traditional Brazilian churrascaria (steak house) before heading to the Capao Xavier mine, operated by Vale S/A as part of its Paraopeba Complex. The mine is part of a region known as the Iron Quadrangle, which covers an area of 7,500 sq. km. Although considered a "small" mine, Capao Xavier produced 8.4 million tonnes in 2011, contributing 2.6% of Vale's total production of iron ore.
A fleet of 16 Liebherr R 964 C mining excavators are in operation in the Paraopeba Complex. They are used to excavate sterile (earth loosened during blasting) and the iron ore and load them into a shuttle fleet of 38-tonne trucks. The material is then brought to the crushing center to be sized and separated, and then transported for final processing.
Three of the R 964 C excavators are allocated to the Capoa Xavier mine site. Although typically viewed as a standard-sized machine suited for construction work, these units have been fitted for heavy-duty mining operations, incorporating a 23-ft. (7.00 m) gooseneck boom, 8.5-ft. (2.60 m) stick and 5.23-cu.-yd. (4 cu. m) heavy-duty buckets. The excavators are ideally sized to the 38-tonne trucks used on smaller mining sites such as Capao Xavier, which is located close to residential areas and has existing road structures crossing part of the transportation paths of the mine.
The visit to the mine included a bus tour around the perimeter of the site, then our vehicle climbed the steep grade to an overlook on the top of the mountain. Unfortunately, an incoming weather front forced us off the mountain top shortly after, but we were happy to depart before the torrential rains hit.
Watching a World Cup Stadium Come to Life
After the mine site, we returned to Sao Paulo for a tour of Arena Corinthians, one of 12 stadium construction projects being undertaken for the 2014 FIFA Soccer World Cup. Nine of the 12 projects are being conducted with the help of Liebherr cranes.
The Arena Corinthians is situated on a total area of 200,000 sq. meters, and will replace the previous training center of the Corinithians soccer team. The project involves a total investment of more than $393 million (USD). Once completed, it will offer seating for 65,800 spectators.
Following a briefing from the project manager for Construtora Norberto Odebrecht, the contractor responsible for the project, we had a chance to check out the LR 11350, the largest Liebherr crawler crane operating in Latin America, as it was being set up for its next pick. The LR 11350 has a 1,350-tonne maximum load capacity and a maximum boom length of 748 ft. (228 m). We were then led into the bowl of the stadium to see Liebherr's HC series heavy-load tower cranes and a 450 C top-slewing crane at work.
Official kick-off of the stadium project was in May 2011. The stadium is scheduled to be ready for the opening match of the World Cup games on June 12, 2014.
Cranes and Cargo
Following a drive through the lush Brazilian mountains, we arrived for our final night's stay in beautiful Guaruja, a community located along the Atlantic Coast. After enjoying an evening of traditional samba and mambo music, along with more fine Brazilian cuisine, we headed to Porto de Santos (Santos Sea Port), where we would be able to view Liebherr mobile harbor cranes hard at work.
TECONDI (Terminal para Conteineres da Margem Direita S/A) conducts port operations, as well as handles and bonds storage of import/export cargo, using two LHM 500, one LHM 550 and four LHM 600 Liebherr mobile harbor cranes. With a lifting capacity up to 208 tonnes, the LHM 600 is Liebherr's strongest model. The LHM 500 cranes are equipped with electric drive for eco-friendly operation, while the LHM 550 is the first TECONDI crane equipped with the Pactronic hybrid drive system, which boosts performance and reduces emissions by 30%.
Capping off the information tour, we boarded a chartered boat to get an up-close look at the cargo ships as they were being loaded before enjoying a tour of the extensive harbor operations. We then set off for the airport with a better understanding of Liebherr's presence in Brazil and its potential impact on the future growth of this burgeoning market.
Companies in this article